DIY Patio Shade & Retractable Solar Screen Kits
"We build em, you hang em"
Order our custom shades and screens online.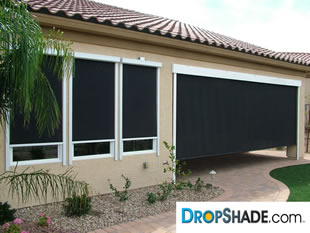 We developed a do-it-yourself shade kit for our out of state customers so you can enjoy the same quality shades that many of our Las Vegas residences enjoy. The shades come in widths of 8', 12', 16', 24', and 32 feet long with standard drops of up to 8 or 10 feet. They are easily trimmed to fit your patio or window perfectly. We can also build them to your exact measurement. We specialize in large high quality sizes! Please contact us with the contact form provided for availability and pricing.
DROPSHADE - For a FREE estimate call (702) 472-8045 or Text (702)456-7742
Factory Outlet - 2547 E. Washburn RD. North Las Vegas, Nevada 89081